Hal Tasaki
Department of Physics, Gakushuin University
---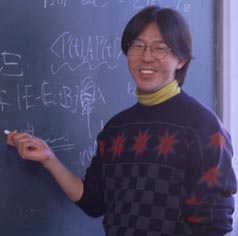 fields of interest: Theoretical Physics, Mathematical Physics, Statistical Physics

mailing address: Department of Physics, Gakushuin University, 171-8588, JAPAN

phone: 81-3-3986-0221 (ex. 6485)

fax: 81-3-5992-1029 (Department of Physics)

e-mail: hal.tasaki@gakushuin.ac.jp

---
---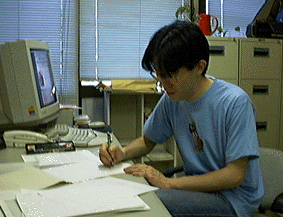 One of the aims of physics is to elicit "universal" properties from the world we observe (in various manners), and truly "understand" them. I have been mostly interested in various physical problems in which many (or infinitely many) degrees of freedom generate nontrivial physics, and worked on problems from such fields as statistical physics, condensed matter physics, and field theories. I have been trying to prove mathematically rigorous results which are at the same time important and enlightening from physicists' point of view.

Main topics and their detais follow. There is also a list of selected publications.

---
---
(12/31/1997) Among my plans has been to study and understand thermodynamics deeply. Since i will be teaching thermodyamics in the coming academic year, I have finally started studying it. Apart from standard textbooks, I am also studying the axiomatic approach of Lieb and Yngvason (Archived as cond-mat/9708200. Link to server in US, Italy, Japan.), which seems quite deep.
(12/18/97) Two reviews about the Hubbard model

From Nagaoka's ferromagnetism to flat-band ferromagnetism and beyond: An introduction to ferromagnetism in the Hubbard model
(Archived as cond-mat/9712219. Link to server in US, Italy, Japan.)

are now ready. "From Nagaoka's ferromagnetism..." is a self-caontained review, which I hope to be readable to those who have been working on other areas of physics or mathematical physics, and are interested in the Hubbard model.
I will finish the full paper (for my letter in 1995 about the ferromagnetism in non-singular Hubbard models) within 1998!
(12/17/97) My first paper about the derivation of the canonical distribution from quantum dynamics was accepted for publication in Phys. Rev. Lett. The final version is in the archive. (Archived as cond-mat/9707253. Link to server in US, Italy, Japan.)
(12/16/97) I was visiting the United States for ten days. This was the first visit after I left Princeton nine years ago, and was quite fruitful both scientifically and personally.
---
Hal Tasaki
Department of Physics, Gakushuin Univeristy
Tokyo, Japan