Features of the Course
Although there were already seven Graduate Courses in the Gakushuin University Graduate School during the latter half of the 20th century, it grew increasingly clear that there was an academic area that was not being handled adequately by individual courses. We referred to this area as "Culture of Corporeal Representation" and established it as an interdisciplinary research course.


The studies of the 19th century were based on text (literature and words). However, contemporary culture cannot be discussed without representation (images). Arts developed in the 20th century, such as film, animation, and manga, have a huge place in contemporary culture; however, there has been no place to study them as a whole and research them as a new development in representational art, like the theater, which was their precursor. Our "Graduate Course in Cultural Studies on Corporeal and Visual Representation" fills that academic void.


Plays, in which actors represent life in the world; films, in which celebrities are glamorously reflected; and manga and animation, whose characters span space and time, all of these start out as bodies and images that significantly impact the environment and industry of contemporary media. What exactly is happening there? The "Graduate Course in Cultural Studies on Corporeal and Visual Representation" follows what is understood as this feeling and investigates it further in a previously uncharted scholarly field.


Another aim of the course is to provide a foundation for research on the possibilities for imagery and corporeal culture that could never be seen by words or reason. To achieve this, we study the history and theories of corporeal representation culture in depth. For this purpose, our faculty includes an assortment of the best researchers in several different fields, and we would like students to make good use of this cooperation and capture the essence of cutting-edge contemporary culture.


Cultural Studies on Corporeal and Visual Representation is a new field that questions the cultural meaning created by the body in image media, focusing on performing arts, video art, manga, and animation. In this course, the fields of performing arts, video art, manga, and animation intersect with the fields of language, region, and specialty, forming an organic combination that involves cultural studies related to the body, which features extensive, in-depth learning. Accordingly, this course is most suited to those interested in theater, film, manga, and animation, or to those wanting to research these areas that have a background in cultural studies in relation to the body.

- - - - - - - - - - - - - - - - - - - - - - - - - - - - - - - - - - - - - - - - - - - - - - - - - - - - - - -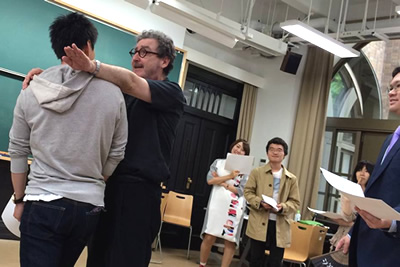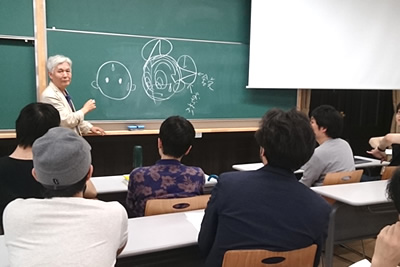 Course Introduction
Graduate Course in Cultural Studies in Corporeal and Visual Representation.
Gakushuin University
1-5-1 Mejiro, Toshima-ku, Tokyo 171-8588, JAPAN
Tel:03-5992-1404