Department
Missions of Department of Education
Teacher education looking ahead to society in 2050
Missions of Department of Education
Our goals are to make students acquire extensive knowledge on education and society and to make them explore and research a variety of possibilities regarding development of children. We aim to promote growth of child who will lead the next generation and foster human resources who possess qualifications and abilities to create and form Sustainable Society.
Curriculum and Diploma Policies of Department of Education
Our main objective is to prepare elementary school teachers.
The features of teacher education at this department are the following three points:
1. Expertise as a teacher
It is "learning centered approach" that will be the most important keystone in elementary education from now on. In order to realize the learning centered on children as learners, teachers need to have a deeper comprehension of "education" themselves than ever before and acquire a variety of practical educational methods.
2. Teaching competence for real experience learning
Everyday life of children is filled with virtual reality these days. The ratio of virtual reality in our life is increasing more and more from now on. For steady growth of elementary school students, however, abundant real experience is indispensable. Teaching competence for real experience learning is therefore essential for elementary school teachers in the days ahead.
3. Capability to cope with globalized society
As globalization progresses, many Japanese elementary schools have children with different cultural backgrounds. It is forecasted that more and more foreign students will enter elementary schools in Japan from now on due to globalization. The ability to teach Japanese language to children whose native language is not Japanese will be needed for elementary school teachers. Basic understanding of Asian languages such as Chinese and Korean will also be required for them.
Department of Education has improved curriculums and instruction systems so that they allow teachers to acquire the above mentioned abilities steadily.
Teacher education looking ahead to society in 2050
What kind of society will Japanese people face in 2050? Society will be far more globalized and international exchange will be far more active. Along with progress of virtual reality, it will be far more important to touch nature. Communities will be diversified and community-based education will be far more required. Gakushuin University's Department of Education in Faculty of Letters will cope with such changes of society and develop elementary school teachers equipped with the qualifications to foster children in the next generation.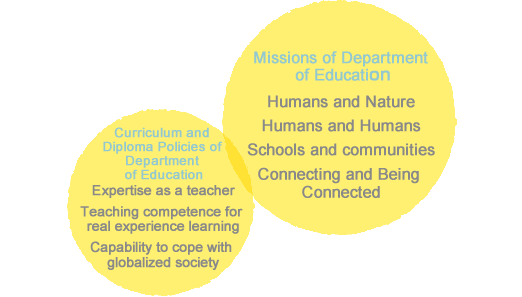 Keywords of Department of Education: "Connecting and Being Connected"
Keywords of Department of Education: "Connecting and Being Connected"
Emphasis on real experience learning
Field experience lessons for touching nature
Experience in touching authentic things through art of making, etc.
Social experience learning through volunteering activities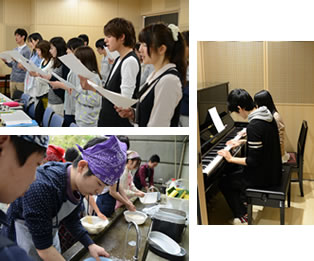 People are connected with people.
We connect people with people.
Communication ability
Interactive communication responding multi-cultural and sustainable society
Focus not only on English but also on Asian languages
Teaching methods for Japanese language education for children with foreign nationality that are more and more demanded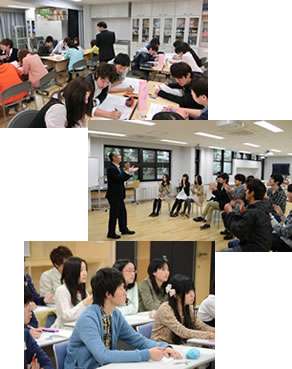 Schools and communities are connected.
We connect schools with communities.
Education for multi-cultural
and sustainable society
Environment education based on ESD (Education for Sustainable Development), education of international understanding, learning through volunteering activities
School education in collaboration both with local communities and global society