History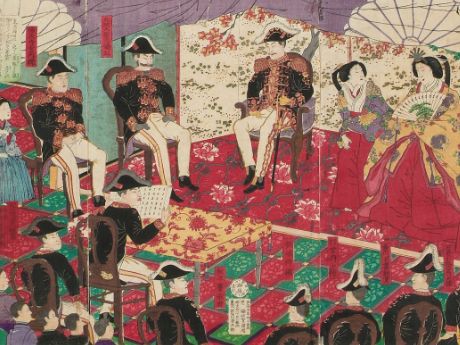 Gakushuin's origins lie in an educational institution for the court nobility that was established in Kyoto during the last days of the Tokugawa Shogunate. After the Meiji Restoration, in 1877 Gakushuin opened its doors in Tokyo for the education of the nobility.
Gakushuin's Educational Goals and Aims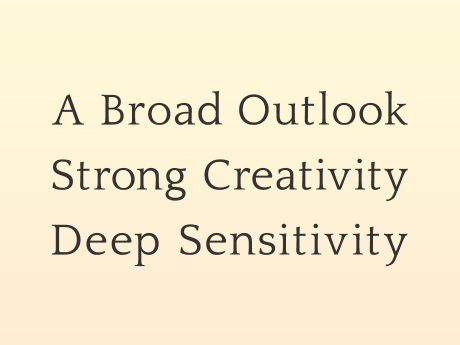 These three educational goals epitomize Gakushuin's intent to achieve the aim of"providing an integrated programme of education from kindergarten through to university that cultivates individuals of noble character and steadfast judgement; individuals who, possessed of thoughtfulness and deep awareness, are ideally equipped to contribute to the modern world".
School Guide
Integrated Education
The true purpose of Gakushuin lies in the education of all students, irrespective of their social standing, status or gender. Subject to the regulations of each of its schools established in accordance with the Basic Act on Education and the School Education Act, Gakushuin provides integrated educational programmes for all students from kindergarten through to university, aiming to cultivate persons of noble character and sensible judgment, to foster sound thoughts and rich emotions demanded by the modern world, and hereby to produce individuals who will be able to make a contribution to Japan and to humanity.
A Community of Knowledge at Mejiro-no-Mori

The Mejiro Campus where Gakushuin University is situated is an approximately 30-second walk from Mejiro Station on the JR Yamanote Line. Despite its location in the heart of Tokyo, the campus is ensconced in a lush green natural environment where the sights of the four seasons unfold over the year. The campus displays a harmony of historical buildings designated as national tangible cultural properties, and new, functional buildings with state-of-the-art facilities.
Gakushuin University has five faculties: Law, Economics, Letters, Science and International Social Sciences, comprising a total of 17 departments. All students study for the full four years at this one campus. The teaching staff at Gakushuin University are leaders in their respective fields, providing high-quality lectures that expose the students to cutting-edge knowledge. The learning environment focuses on small-group seminars and laboratory work, with careful guidance suited to the individual student. Teaching staff and students are able to apply themselves closely to study in an environment that fosters friendly competition.
Gakushuin University also offers, for the purpose of producing young people able to play an active role in the international community, a variety of support programmes for students wishing to study abroad. We accept numerous international students, with whom Gakushuin students enjoy healthy interaction. Careful and painstaking attention is paid to career education and employment support, and Gakushuin graduates stand out as talented individuals in a broad range of fields. Mejiro-no-Mori is a diverse community of knowledge where people with different values, interests, and opinions gather.

Faculty introduction

Faculty of Law

Department of Law, Department of Political Studies

Studying legal frameworks and political frameworks to acquire practical knowledge that is valid in modern society

Small-group classes equip students with superior skills to comprehend and analyse social phenomena and issues, cultivate their compassionate humanity, and develop their ability to make decisions appropriate to the occasion. Students can acquire wide-ranging knowledge by taking courses in both law and politics.

Faculty of Economics

Department of Economics, Department of Management

Studying economics and management to gain the global perspective essential in addressing social phenomena

The aim of the Faculty of Economics is to produce students of outstanding character and creativity, possessing the ability to solve the diverse economic and managerial issues facing modern society, both in Japan and around the world. Both departments offer a large number of courses that teach students advanced theory and practical knowledge. Instruction offers multiple perspectives and employs techniques and concepts that are internationally recognised.

Faculty of Letters

Department of Philosophy, Department of History, Department of Japanese Language and Literature, Department of English Language and Cultures
Department of German Studies, Department of French Language and Cultures
Department of Psychology, Department of Education

Considering the true nature of people and their activities, answering the needs of the times while upholding tradition

The Faculty of Letters produces students able to explore new worlds of knowledge in the various fields of the humanities, who will become torchbearers of culture. The curriculum is based on academic tradition and after instilling a firm foundation, guides students into specialised research. The interests and concerns of individual students are accommodated in small-group seminars; teaching staff provide students with research guidance suited to their needs and stimulate students' powers of imagination and creativity.

Faculty of Science

Department of Physics, Department of Chemistry, Department of Mathematics, Department of Life Science

Facing the unknown in a first-rate learning environment with cutting-edge research facilities

The Faculty of Science, through small-group instruction, trains students to acquire genuine competency in addressing issues from every angle in the four basic fields of modern science. Under the tutelage of nationally and internationally renowned researchers and the state-of-the-art research facilities, students gain greater understanding as they conduct experiments and participate in seminars, acquiring the ability to solve problems on their own.

Faculty of International Social Sciences

Department of International Social Sciences

Producing people who play an active role at the forefront of international business

The core features of the Faculty of International Social Sciences are courses that develop students' ability to identify and resolve problems; a curriculum through which students study social sciences in English in incremental stages; and a minimum of four weeks of overseas study. Using the social science methodology, the curriculum is designed to teach students how to tackle the issues facing the international society, and to give them the communication skills necessary to work confidently and effectively with people around the world.

University Graduate School / Professional School

The pursuit of ever more advanced expertise through research in an outstanding environment

Gakushuin University has six graduate schools: Graduate School of Law, Graduate School of Political Studies, Graduate School of Economics, Graduate School of Management, Graduate School of Humanities, and Graduate School of Science. Gakushuin University Law School was established as a professional graduate school where prominent research staff outstanding in their respective fields conduct multi-faceted research and provide graduate-level instruction. Educational research always takes place in small-group settings. The master's course admits some ten students per year in each specialization, and the doctoral course no more than five. Gakushuin University Graduate School is distinguished by its capability to afford each and every student extensive instruction in their chosen field of research. In addition, some graduate courses offer seminars taught by multiple instructors, as well as credit exchanges with other graduate schools so that students acquire the ability to approach their research from a variety of analytical perspectives.
Additionally, the Gakushuin University Graduate School has a full range of assistance available to graduate students not only in the form of scholarships, but also grants to support them in giving scholarly presentations in Japan or overseas; and several graduate students have received high acclaim for their research results. The Gakushuin University Graduate School produces capable people who after graduation go on to make full use of their advanced specialized knowledge, some pursuing careers in research, others building careers in a wide variety of fields.

Fostering a Broad Outlook in Women to Enable them to Play an Active Role in the Global Community

As its name signifies, the Faculty of Intercultural Studies at Gakushuin Women's College offers a curriculum that emphasizes cultural exchange and aims to foster well-educated and cultured citizens of the world.
The Faculty has three departments. The Department of Japanese Studies approaches Japanese culture comprehensively through the four areas of literature, art and thought; folklore and history; contemporary society; and comparative culture. The Department of Intercultural Communication focuses on the world from the three viewpoints of international relations; communication; and comparative culture and area studies. Students in the Department of English Communication attain a high level of communicative ability in English. Students are able to study a diverse range of subjects including global cultural exchange; human and environmental studies; traditional culture; culture in everyday life; health and sports science; and other topics. There is little separation among departments so students are able to acquire a broad outlook and an in-depth education.
In the amiable and secure environment to be found only in a women's college, Gakushuin Women's College cultivates women of dignity able not only to carry on the traditions handed down from the Meiji era, but also to address the issues facing modern society.

Women's College Graduate School

Producing Experts in Art Management and International Cooperation

The Graduate School of International Cultural Relations was established to develop in students a high level of expertise and practical ability for active participation in the fields of arts management, cultural exchange, and international cooperation.
Admission is limited to ten students to ensure small classes and individual attention. Practical subjects are hands-on and diverse, encompassing a wide range from modern management theory to international protection for natural and cultural heritage; budgeting and schedule management for exhibition management taught by instructors with a professional career in the field; proposal production; and cost-benefit analysis. In addition, as part of the curriculum, students are able to gain real experience through internships or six to seven week-long international cultural exchange programmes during which they visit actual overseas sites. Many graduates of the School have gone on to use their advanced expertise serving as museum curators, as cultural attachés for local governments, or as researchers contributing to international cultural exchange.

Educating Boys to Become Self-Reliant as they Contemplate the Path They Will Take in Life

Students who enter Gakushuin Boys' Senior High School are surprised at the freedom afforded the students, which runs contrary to their preconceived ideas about Gakushuin. Teaching staff interact daily with the students with an eye to the future when they will eventually become independent and go out into the world. Students learn to make decisions on their own and learn that these decisions have consequences, a process through which they become aware of the responsibility inherent in freedom.
Classes are taught at an advanced level by specialist teaching staff. Integrated studies are not constrained within the framework of subjects such as law, the humanities, nature, arts, etc., and lessons are equivalent to those at university level. The curriculum is designed to prepare students for university, with a diverse selection of courses covering students' interests and future career paths. To promote international exchange, a system has been put in place that enables students to study abroad for a year without being held back a grade when they return, thus enabling them to advance in step with their classmates. This is a very popular programme, with some twenty or so students going to study abroad each year. The Gakushuin Boys' Senior High School provides an environment equipped with the facilities and systems to allow students to pursue their interests to the fullest and from these real-life experiences they take the first step toward independence as an adult.

Training Mind and Body Builds a Foundation for Learning Fostering the Budding Character of Each Individual

Gakushuin Boys' Junior High School is equipped with a clay field, an artificial turf playing field, two gymnasiums, a heated pool, tennis courts, a martial arts dojo and a wealth of other facilities so that students may devote themselves to athletics to their hearts' content. Students participate enthusiastically in class matches, athletic meets and in school events such as long-distance hiking, camping etc., through which they learn discipline as they strive to reach their goals while working together in cooperation with their classmates; and in this way, they grow into fine young men who are both physically and mentally strong.
Because of the school's vertical integration with Gakushuin Boys' Senior High School, the flexible curriculum puts the emphasis on the development and honing of basic academic skills. There is no cramming of knowledge: rather an education is provided that fosters the ability to pursue knowledge. The school provides an environment in which students are not necessarily limited to a particular framework of subjects, but can study broadly and deeply. For instance, in the sciences, students study with teaching staff who are experts in physics, chemistry, biology, and the earth sciences respectively, and learn mainly through experimentation as they handle precious specimens. For student counselling and non-curricular guidance, there is on each floor, separate from the staff room, a supervisor's office for teachers assigned to that grade, where guidance can be given that respects the personality of the individual.

Girls' Junior & Senior High School

A School that is a Crucible for the Fostering of Character and Intellect Refining these Attributes Day by Day

With a cheerful greeting of"gokigen-you"" (a courteous way of saying"Good day to you all""), students pass through the gate and through the grove of cherry trees as they head toward the main schoolhouse, which looks just as it did when the school first opened. Laughter is everywhere. As students walk through the brightly-lit atrium, they chat with each other on their way to their classrooms. This is how the day begins at Gakushuin Girls' Junior and Senior High School today and every day.
In classes that set great value on process, the initial focus is on writing. Students are afforded many opportunities to express what is inside them: what they think, how they feel. From that training are created exceptional artistic and spiritual works. As the school had always accepted a large number of students returning from living abroad, in 1977 an entrance exam for overseas returnees was instituted. With returnee students as well as foreign students among the student body, overseas study tours and going abroad to study are commonly-available opportunities at Gakushuin Girls' Junior and Senior High School. The course of study also offers a wealth of experiences that are ahead of the times with regard to active learning and internationalization, issues that must be dealt with in today's society.
The new General Gymnasium, which came into use in October 2017, supports the students' sports and cultural activities. Students take the initiative in conceiving ideas for, cooperating in, and organizing the school's sports days, culture festivals, field days, end-of-school-year arts festivals and other traditional events. Students create memories and friendships that will sustain them throughout their lives. These shared experiences build bonds that transcend generations. Gakushuin Girls' Junior and Senior High School are always looking ahead to the needs of society, and have created an environment where girls acquire the character and intellect befitting the women of their times. Rough diamonds to begin with, the students at Gakushuin are polished to bring out the brilliance of each and every one of them so that they may head out into the wider world with confidence.

A Focus on the Spirit of Honesty and Compassion Develops a Keen Eye for the Essentials

The Primary School curriculum emphasises the education of the spirit; sincerity, distinguishing right from wrong, practicing self-restraint and caring others.
In every classroom, we can see that pupils have civil discussions about their own thoughts and ideas, and listen intently to the opinions of their classmates. Knowledge gained through careful observation and reflection, invoking different perspectives and points of view in exchanges of opinion with classmates, is profound yet practical.
Every member of the teaching staff is an expert in his or her respective field; single-subject teachers are assigned to classes starting in the lower grades, and in the higher grades all classes are taught by specialist teachers. Experienced and committed teaching staff pick up on small flashes of brilliance in a child's ideas and expand on them into a learning opportunity.
In an environment where each subject is taught continuously from the very basics, children can further develop and expand their creativity.

Building a Well-Rounded Foundation through Play

Since Gakushuin Kindergarten was established, the curriculum has emphasized play and placed a high value on children's spontaneous, self-directed activities. Our aim is to provide an education in a free and unrestricted environment in which children will acquire proper values and the confidence to accomplish what they set out to do. While valuing the natural way that children live and play, Gakushuin Kindergarten provides an education that imbues in children four attributes: an honest and considerate heart, proper life habits and attitude, the ability to be self-motivated, and a foundation for sociability.
Surrounded by large trees, the courtyard gives the impression of being in the middle of a forest and is a place where children are able to perceive and appreciate the four seasons. As time flows serenely by, children find their own style of play and become engrossed in it. In this secure atmosphere, surrounded by warm-hearted and affectionate instructors, the children reap the spiritual, physical and mental benefits of play, creating memories and developing the ability to enjoy interacting with their friends. We believe this is the sustenance from which we derive the magnanimity to be a complete person.